Solarsails is a solarpunk themecamp made of bamboo, repurposed junk, solar panels and optimism.

Solarsails is a big group effort of twenty or so friends, I am just a small part. I have generally provided cargo transport, solar power from my van, a composting toilet lights and misc building help.


What is Solarpunk?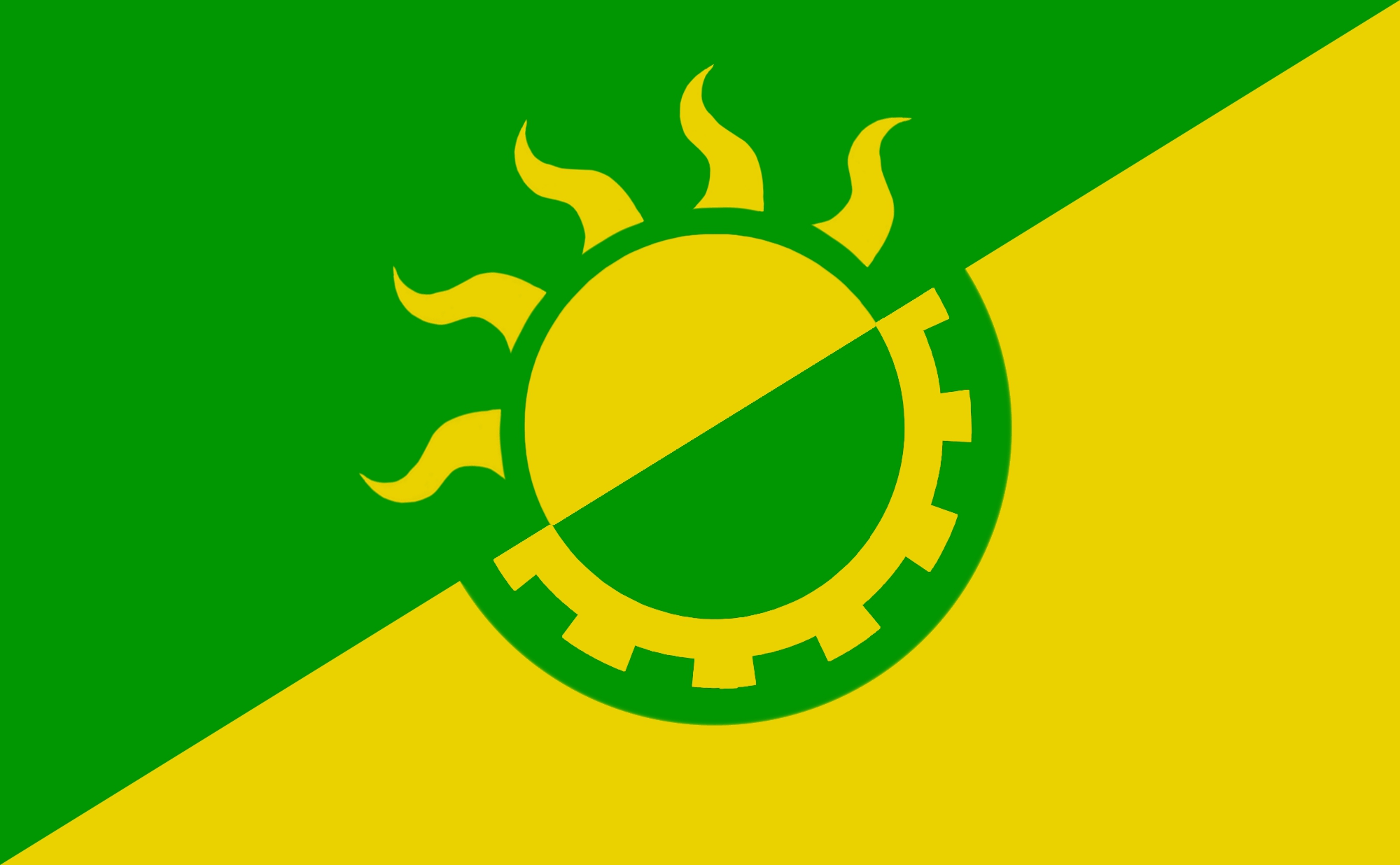 Above - the Solarpunk Flag


> "Solarpunks cherish nature, progress and science; the individual and the community.
> They believe in a world that is green, colourful, and bright. It can be described as a literary genre, an aesthetic, or a movement. The key points are:
> - An emphasis on renewable energy, especially solar power.
> - A demand for technology and society to re-centre around sustainability, longevity, and balance.
> - A focus on decentralisation, community activism, social justice and civic empowerment.
> - A recognition that economic, social, and ecological injustices are all deeply inter-connected."
Above description from Sunbeam City Wiki


> "Solarpunk is a genre of Speculative Fiction that focuses on craftsmanship, community, and technology powered by renewable energy, wrapped up in a coating of Art Nouveau blended with African and Asian aesthetics." - TV Tropes
> "...seeks to answer and embody the question "what does a sustainable civilization look like, and how can we get there?" The aesthetics of solarpunk merge the practical with the beautiful, the well-designed with the green and wild, the bright and colorful with the earthy and solid." - Solarpunk Reference Guide
> "...about finding ways to make life more wonderful for us right now, and more importantly for the generations that follow us – i.e., extending human life at the species level, rather than individually." - Notes toward a manifesto
Ignition 2019
For me Solarsails started when Joran Kikke sent me a message on somewhere asking if I want to join a solarpunk theme camp. I met Joran through Hundred Rabbits' leaving party.

The first meetings were at Hackland - a community workshop "hackspace" for gathering, planning and creating together.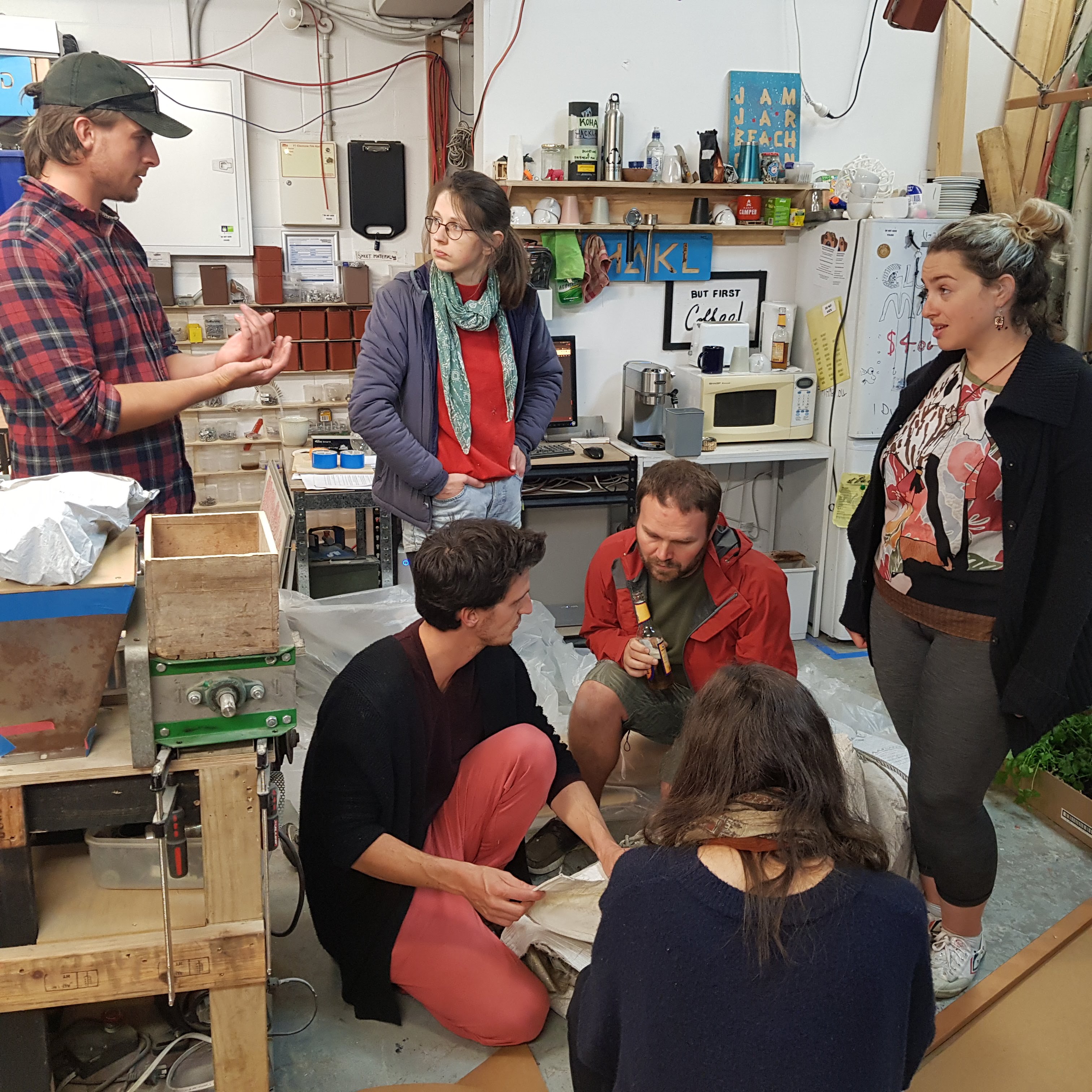 I'd been meaning to go to Kiwiburn for many years but either forgot, missed the ticket sale (most often) or couldn't get the time off work. The year I finally was definitely going... there was no Kiwiburn. The community decided they needed an event, so organized a smaller replacement "Ignition Festival" (originally "Kiwibarn") themselves.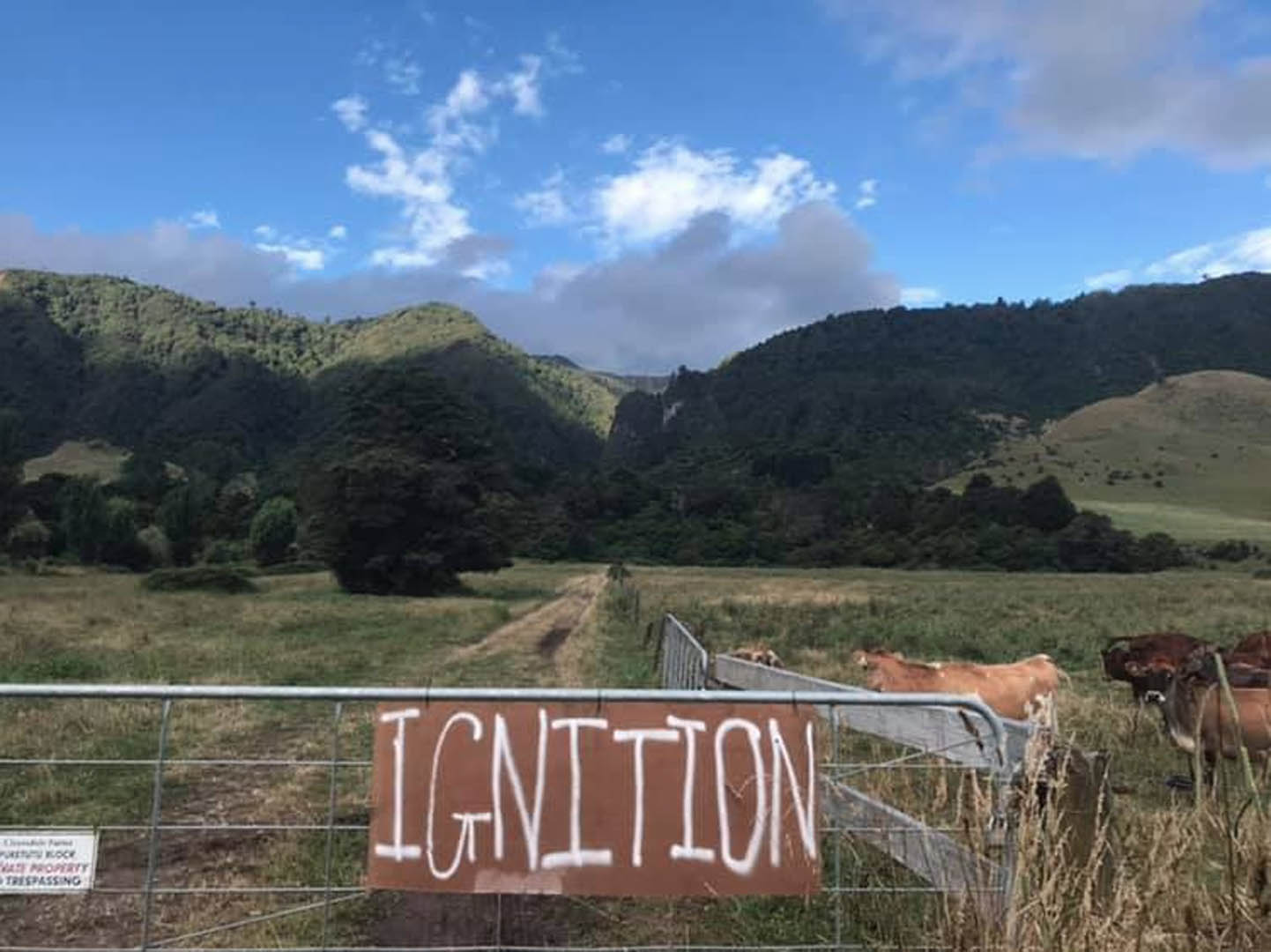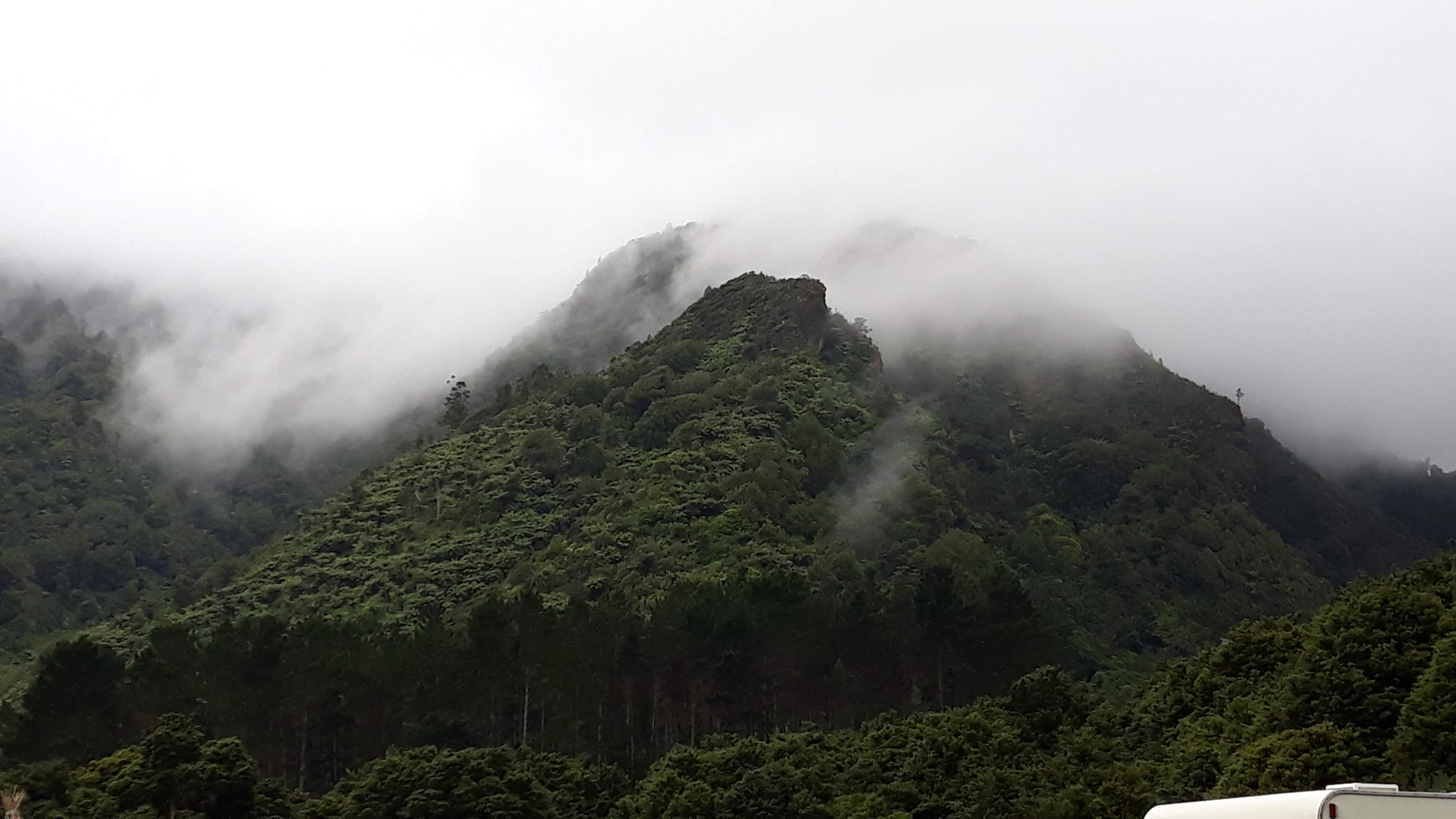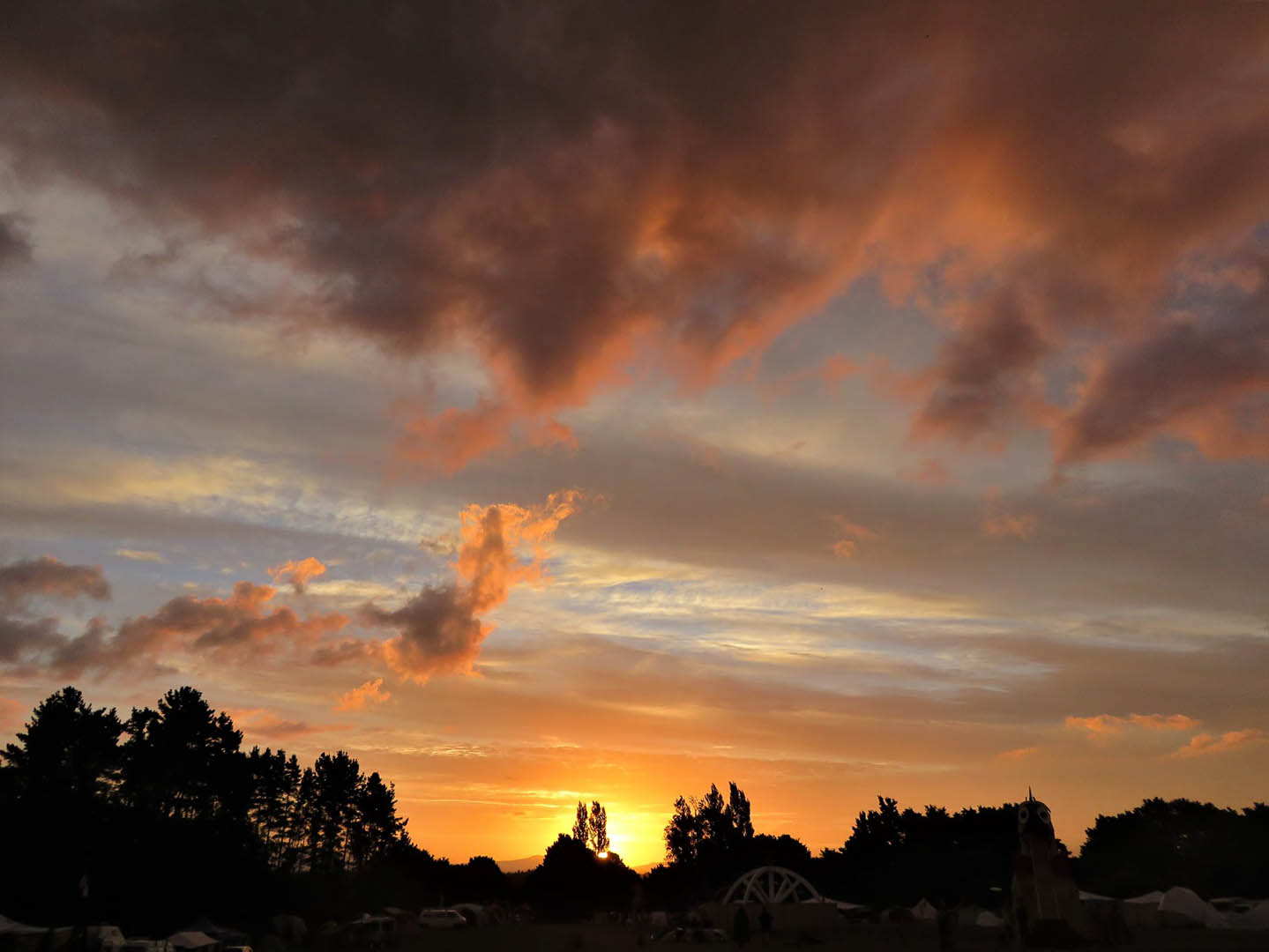 The location was amazing. Beautiful trees, amazing sun rise over a mountain behind us, and a small river next to us. It was awesome that throughout the entire festival the grounds remained spotlessly clean of rubbish, no litter. After the festival there was no trace.

For Solarsails we decided to make a comfortable "chill space" where people could visit and relax. It was a "medium loud" camp - we had a decent normal house stereo playing during the day but shut off quiet at night. This meant we were situated right in the middle of the festival, between loud and quiet sections and right near the effigy.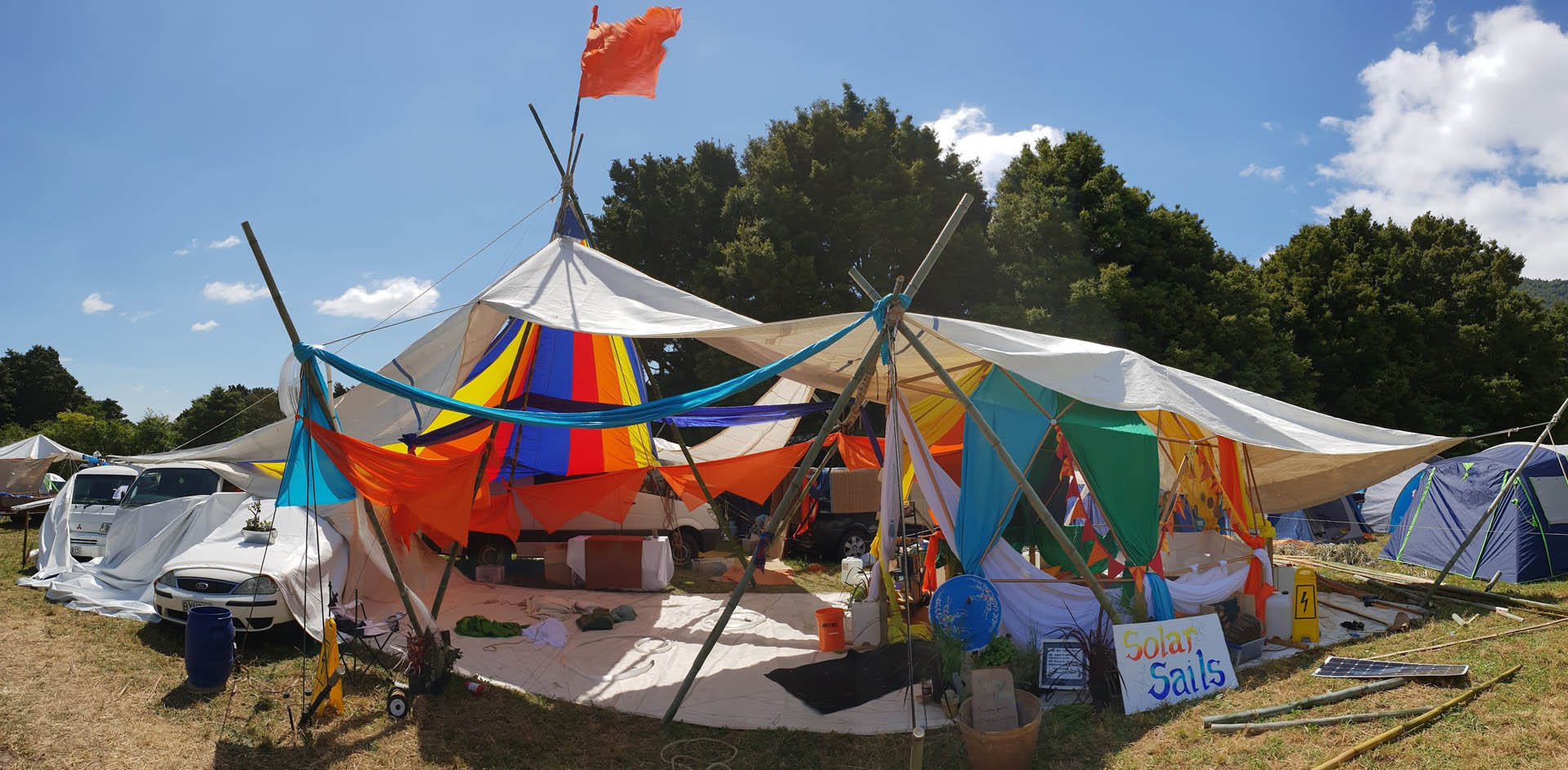 We collected junk yacht sails from sail makers, and bamboo from a friend's community farm in Coromandel. Another friend worked at a zero waste project and managed to get us many relevantly themed cloths and blankets left over from a movie set.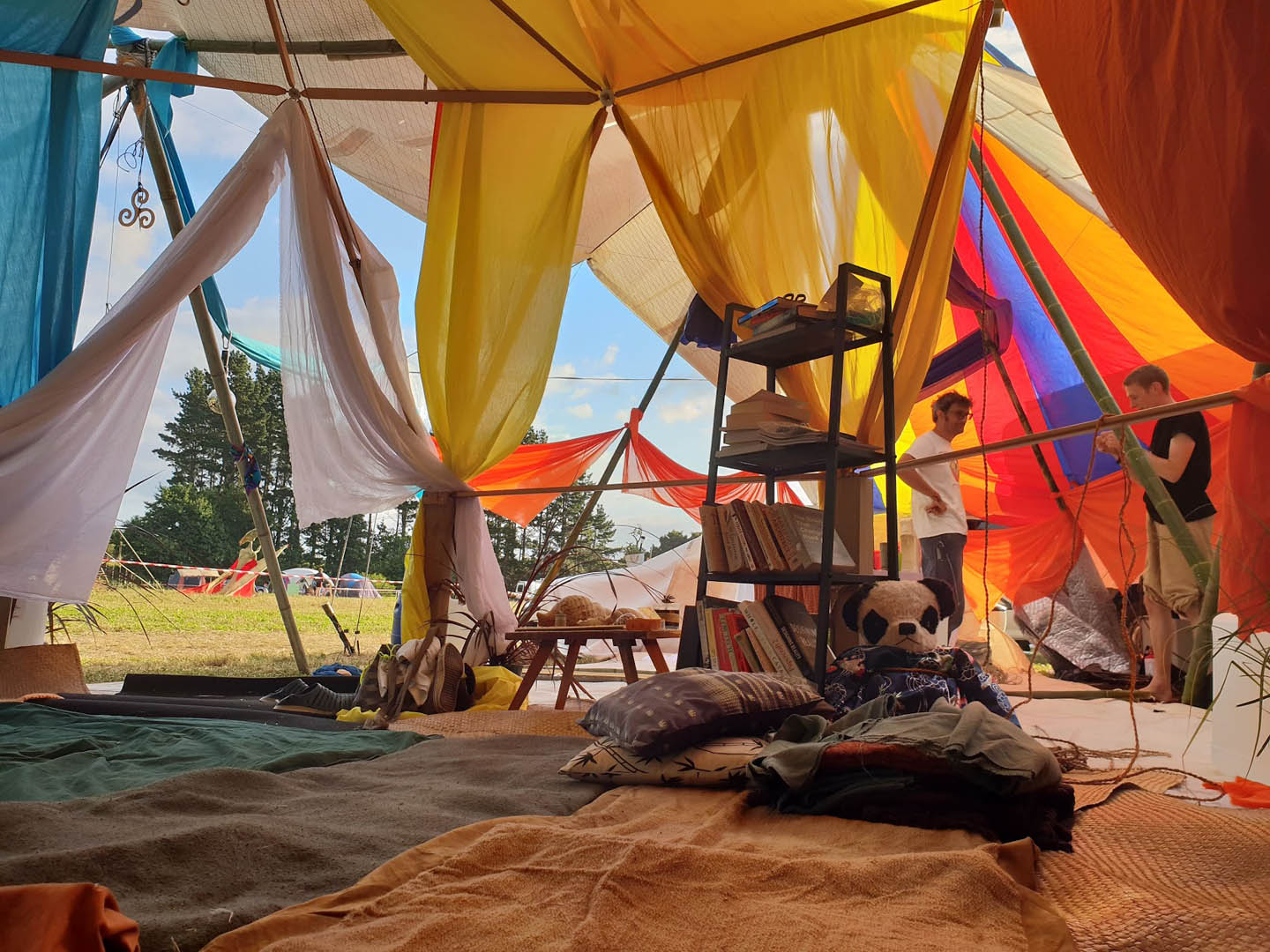 My van provided power for lighting and the sound system.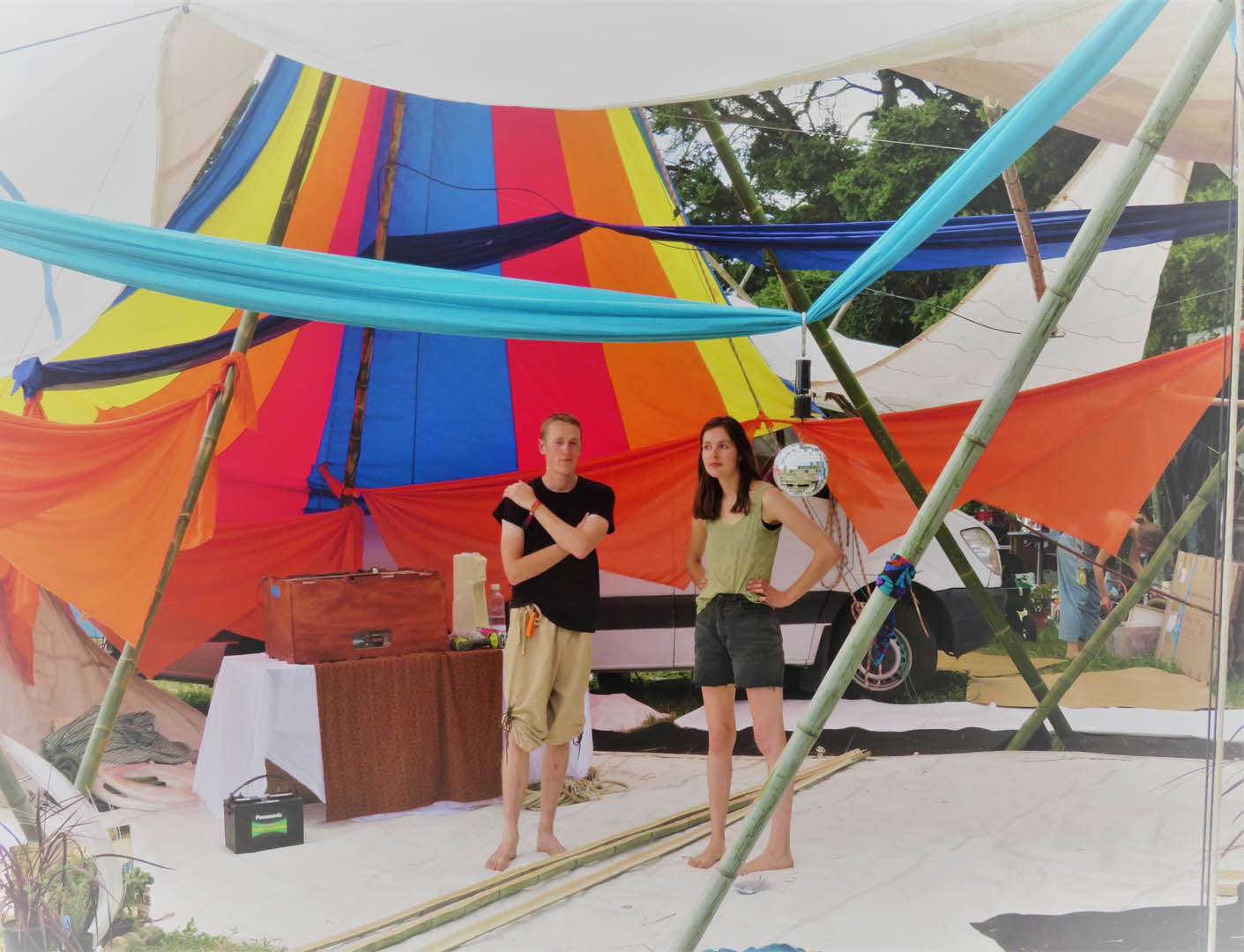 Above - Sarah and I stand awkwardly while being photographed.

A big component of our camp was our big communal dining area out the back. We wanted everyone to be able to eat meals together.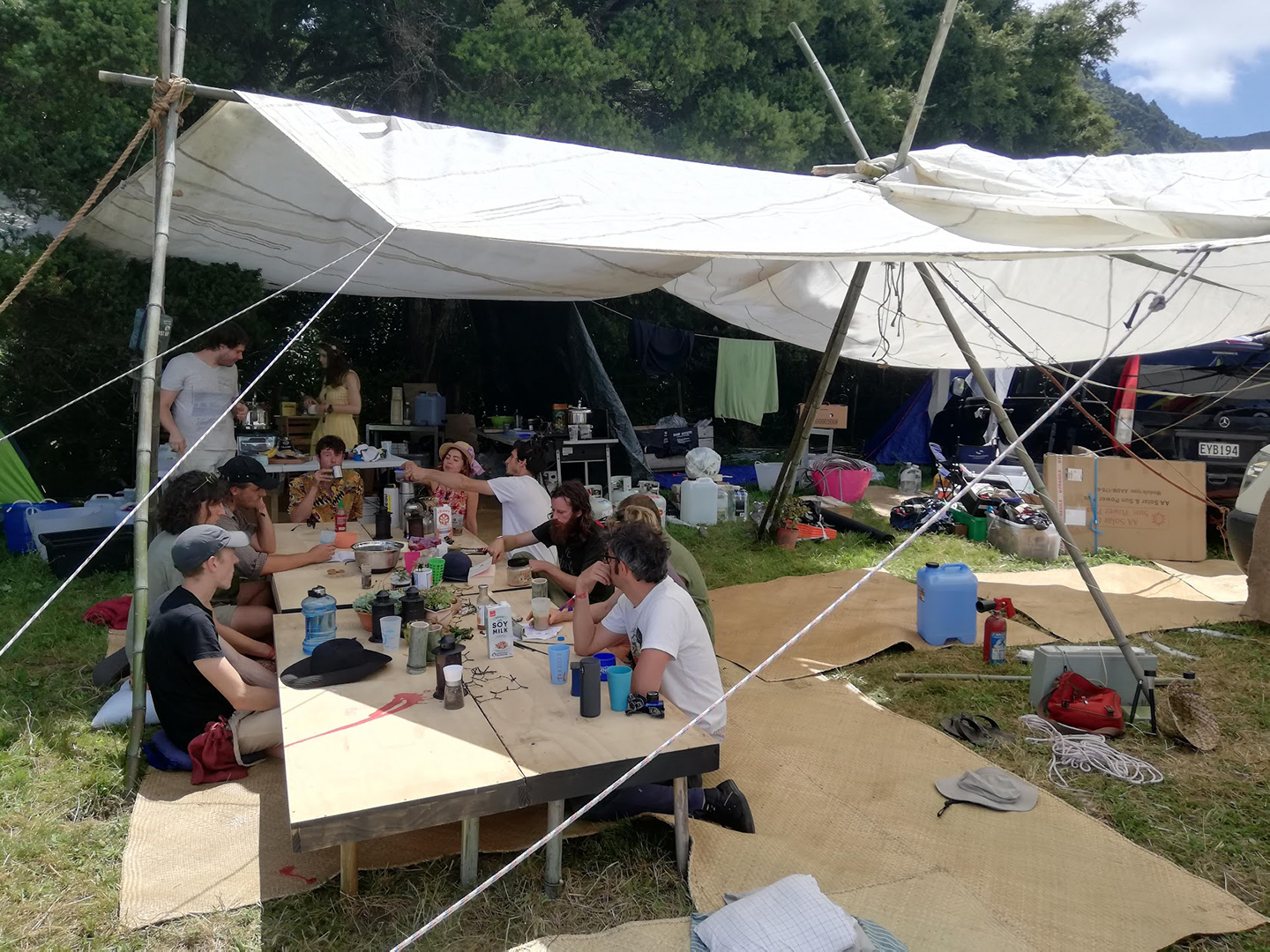 Another big win was people bring plants. Instant home-ly coziness.

My younger brother just happened to be doing a flight course nearby at the time and he flew over and took a photo.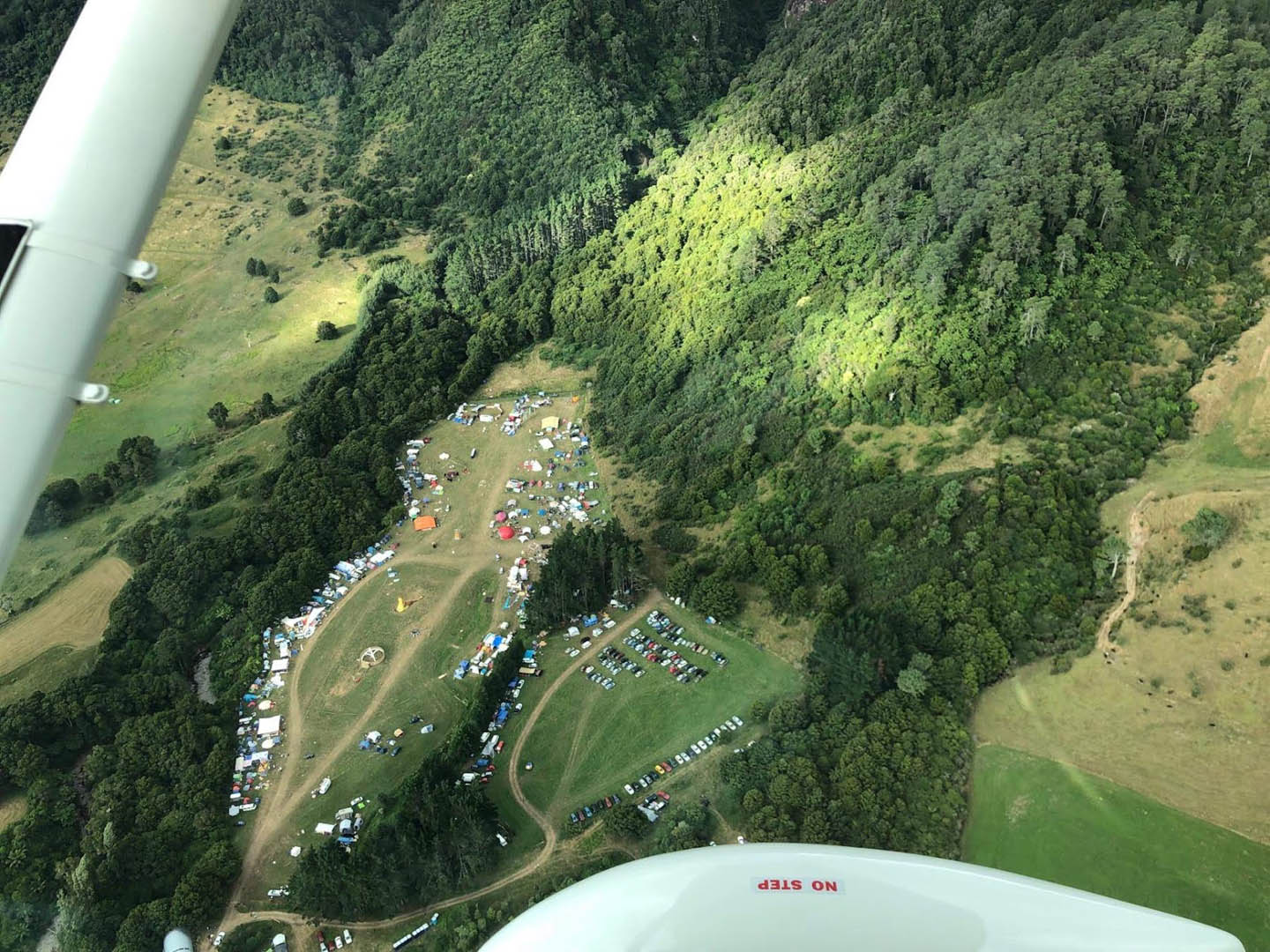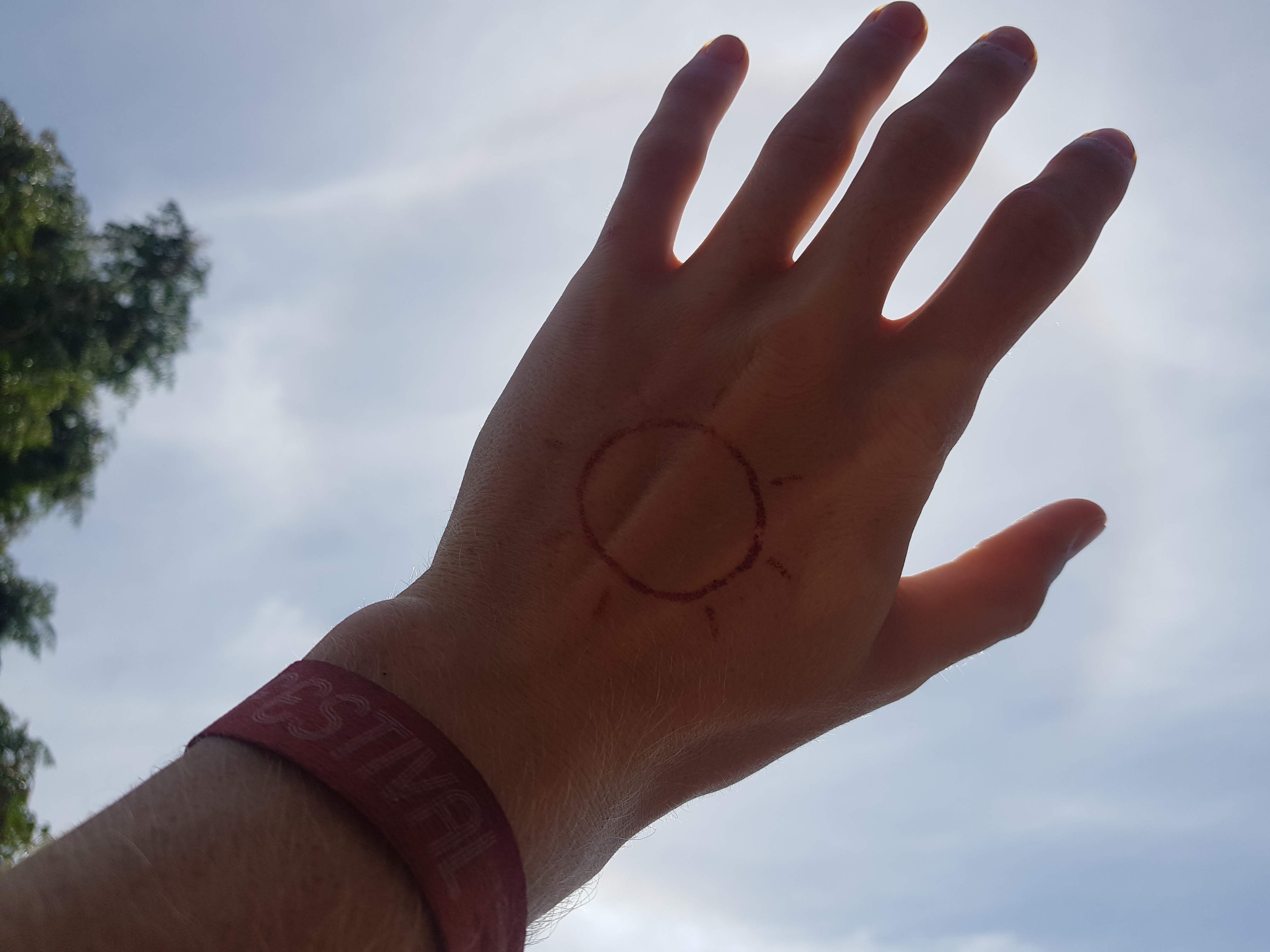 Kiwiburn 2020
For Kiwiburn we wanted to do the same but slightly more ambitious. We kept the same big communal dining area but made it more out front, with lots of plants. We decided we wanted a bigger bamboo structure...

We did a mission weekend to collect more bamboo which Rongamai had pre-cut for us. Another two build test weekends we tested Helena and Alex's bamboo pyramid concept. It was high and wobbly enough to feel alive when you climbed it. We decided to make the half way strong section into a sort of hammock chill zone. We limited this to a max of four people at a time, one for each strong triangle section.

Slightly surprisingly festival attenders were excellent at following rules. At one point in the night I saw a group of five friends visit and say:
> "Let's go up... Hmm! What does this say? OH! This is not for us, we are a five person family, onward!".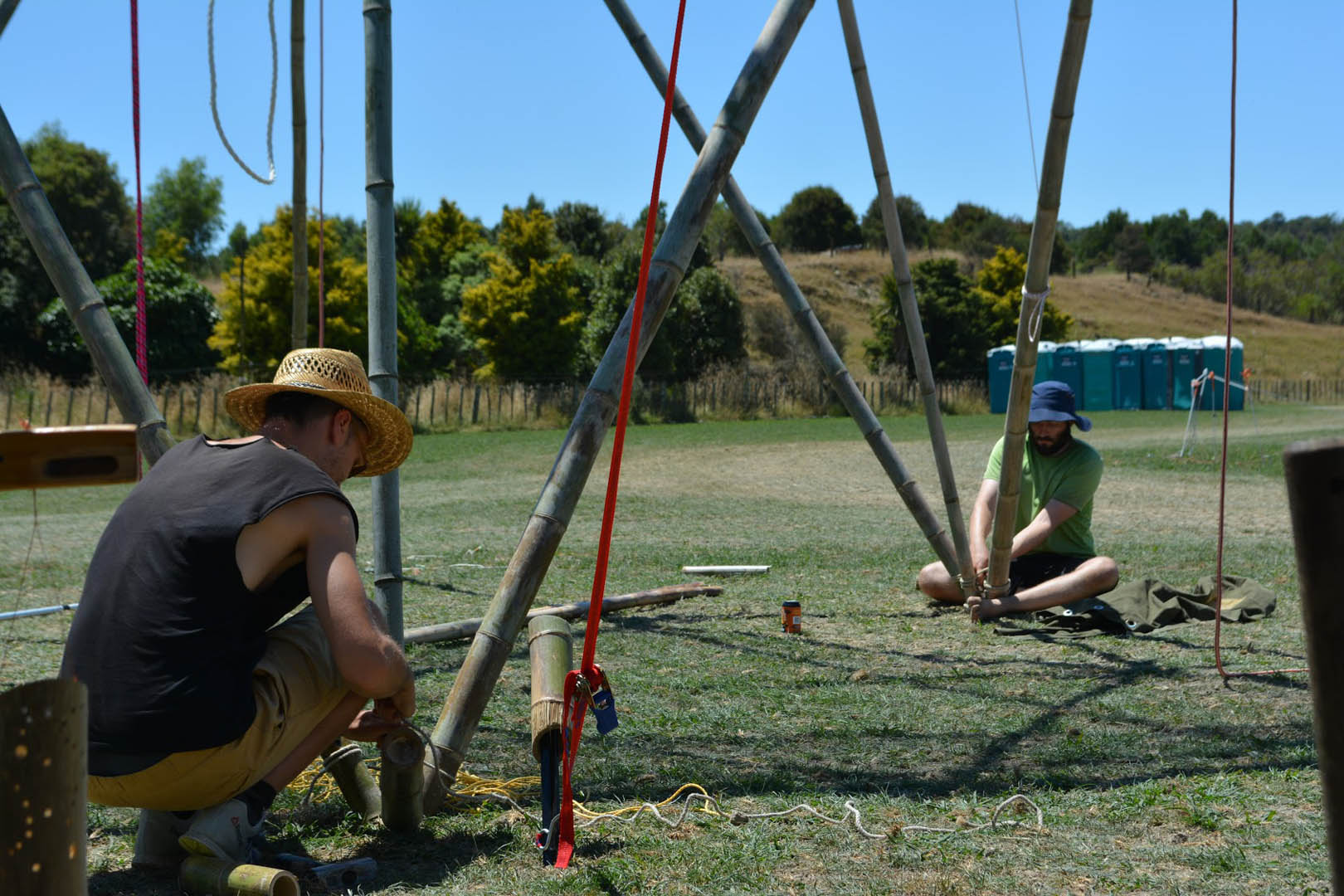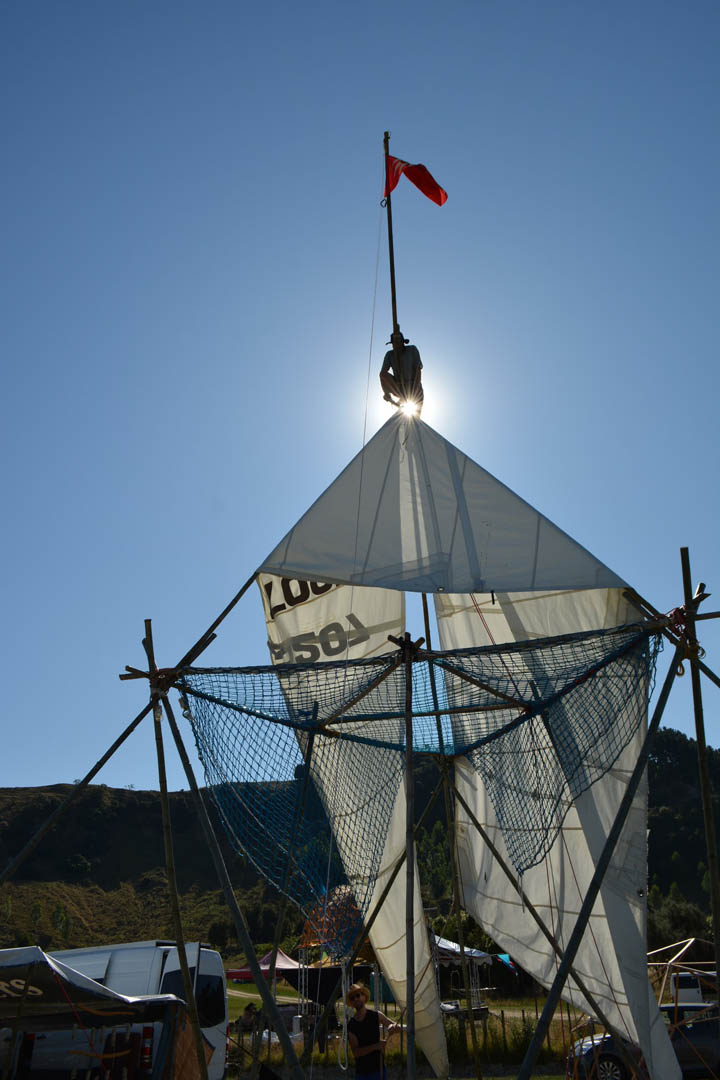 Above - Alex climbs (with climbing safety gear) the pyramid to attach final ropes and pullies etc.

There was a funny interaction with the safety warden. In the afternoon of the set up day he walked over in a dress with a whip - warning that safty offenses are punishable by whipping. He scolded us for not having our fire extinguisher in the correct place, then to our surprise passed us and left without a word about the scarily tall bamboo pyramid.

The next day just after opening he rushed directly to me "I'm going to need you to build safty railings and extend the ladder immediately. I did not realize this pyramid was yours!". I said "I'm more than happy to! However we have run out of bamboo... and rope!" He quickly organized a source of both those things and we made the safety improvements.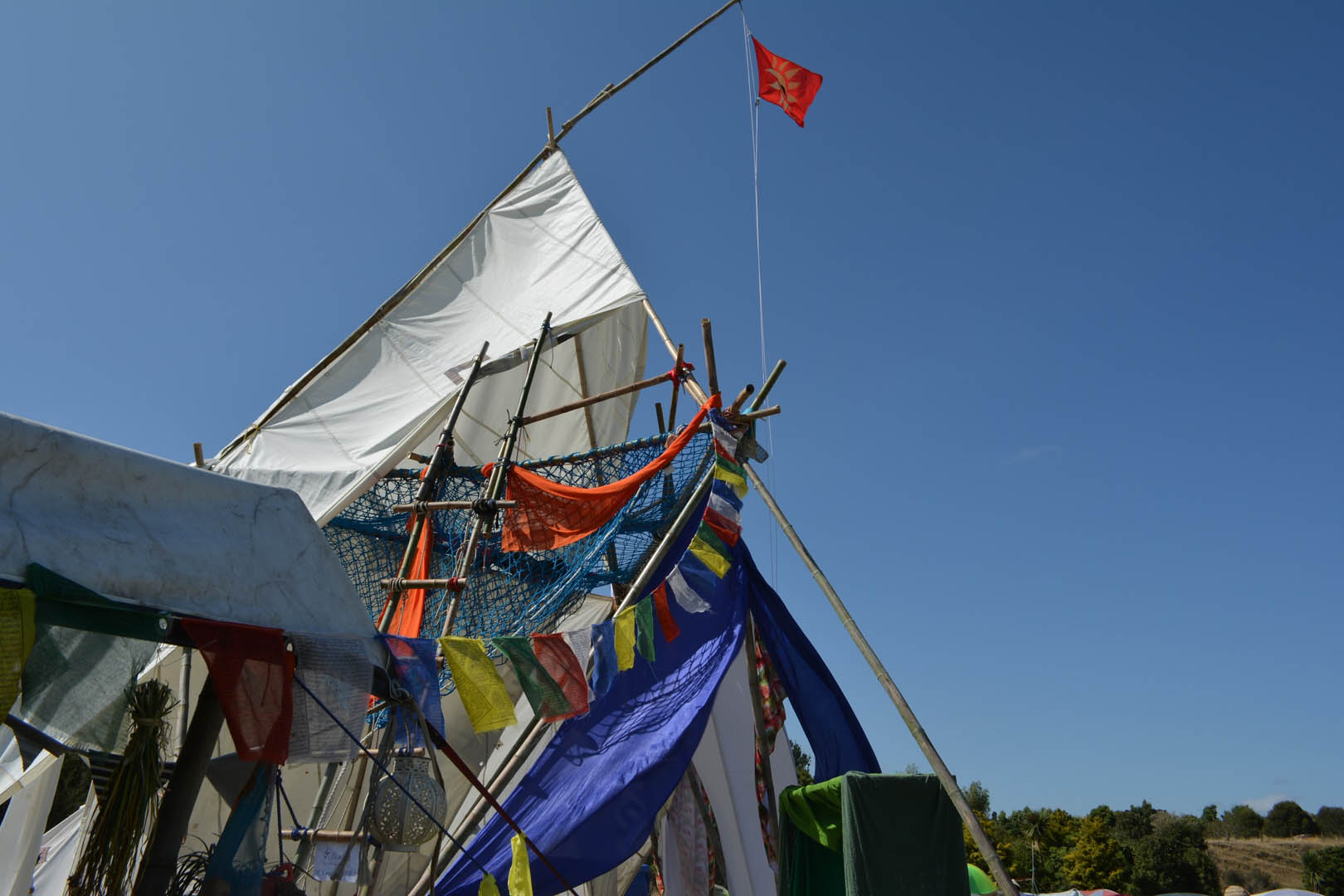 Above - the final decorated Solarsails pyramid. My contribution was mostly just the ladder and requested saftey improvements. The ladder was basically a rope ladder... also attached to two poles. This should mean that if any piece of bamboo did break - even a main pole, it would all still stay together.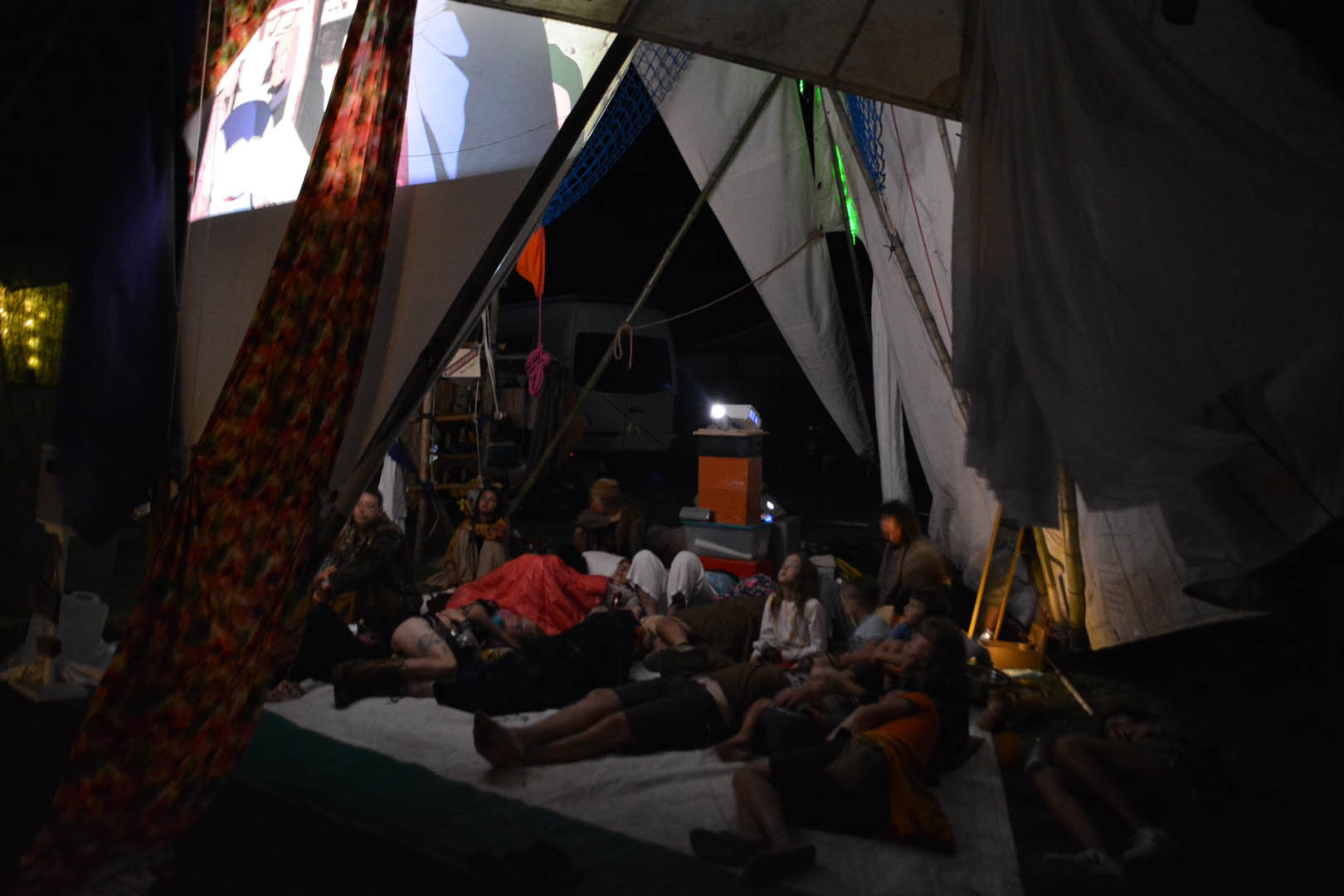 Above - the (recycled) sail covering on the pyramid doubled as a projector screen for night time videos.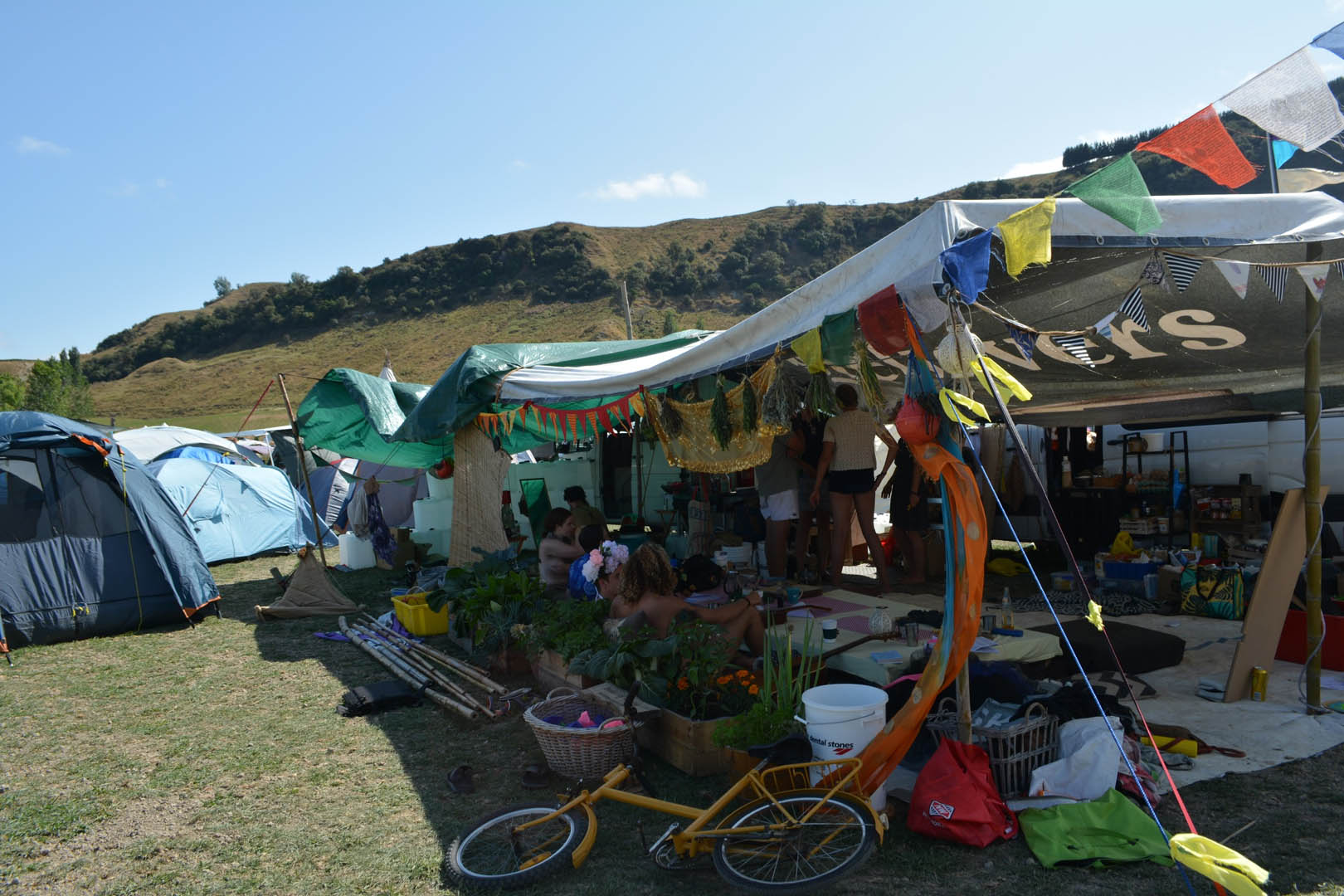 Above - the Solarsails communal dining area. A cool thing that happened with this was that we were invited to a Kiwiburn kitchen tour where chefs of each camp got to see each other's kitchen set ups. The bigger camp's kitchens cooking for 40 to 80 people were very impressive.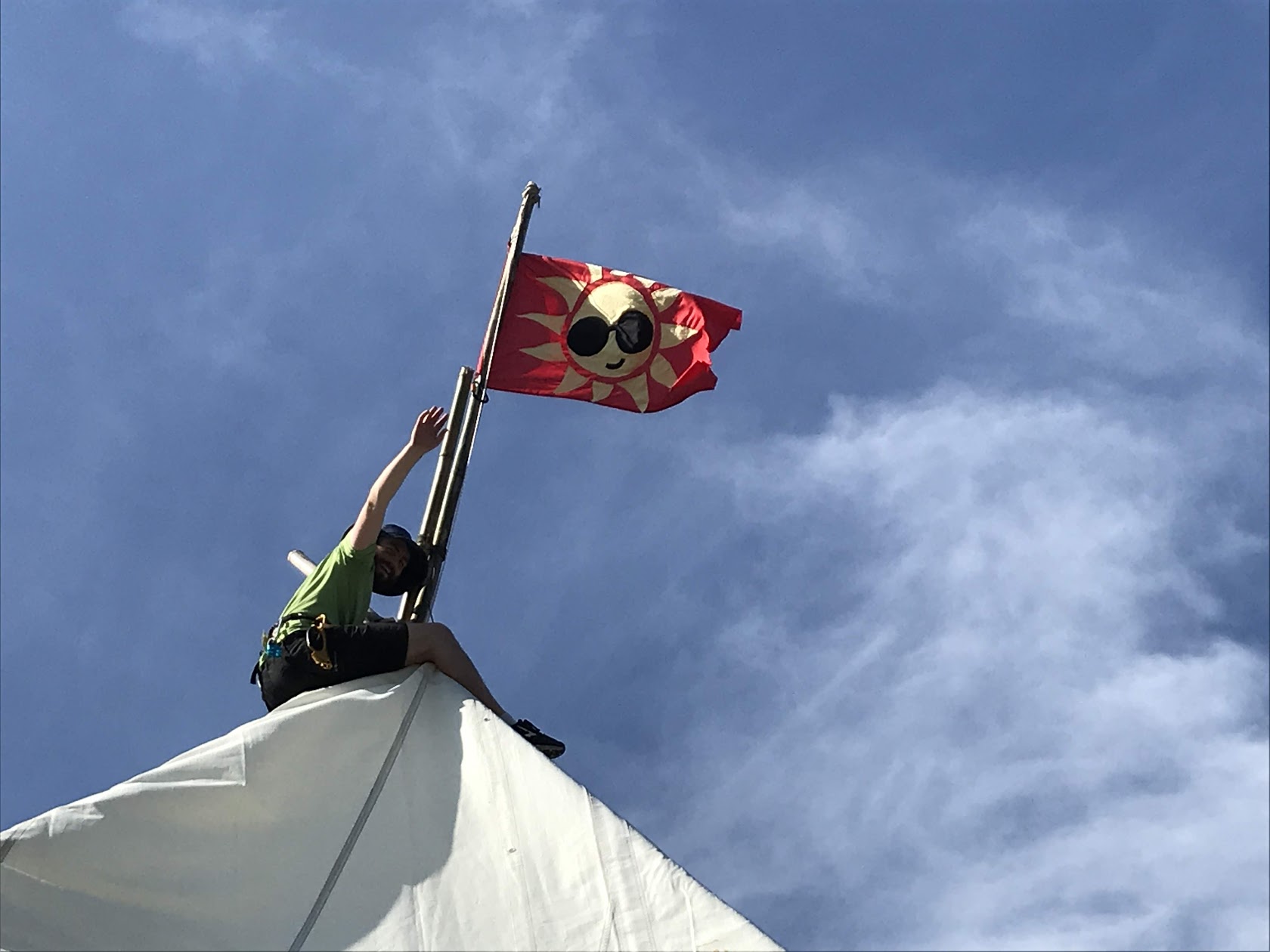 Solarsails can feel like a whole lot of work, but it feels like something special. I'm very happy to be a part of it.